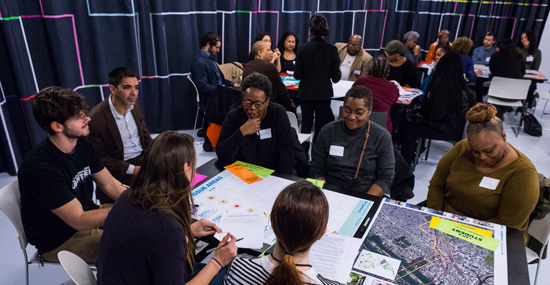 Community Engagement
Museum of the Moving Image engages diverse local stakeholders in helping to advance the understanding, enjoyment, and appreciation of the moving image as a cultural resource. Service-based organizations, residents, filmmakers, artists, and cultural spaces from across the borough of Queens collaborate with the Museum year-round to co-develop programs, celebrate achievements in the digital arts, and access media arts education.
Neighborhood Council
In 2018, the Museum created a Neighborhood Council of local residents and representatives of community serving organizations. The council provides support in the development of new programs, and represents new voices in the decision-making processes of the museum. The forming of a neighborhood council is a direct result from the Cultural Plan workshops and community discussions held in 2017 at the Museum, and serves to continue bringing together residents and organizers with other local cultural stakeholders from community-based organizations and cultural sites.

2021 Council Members
April L. Simpson, President, Queensbridge Tenant Association, Jacob Riis Neighborhood Settlement
Carolina Peñafiel, Executive Director and Co-Founder, Local Project, Inc.
Christopher Hanway, Executive Director, Jacob Riis Neighborhood Settlement
Citiview Connections Clubhouse Members
Brently Winstead, Executive Director, Long Island City YMCA
Jaime-Faye Bean, Independent Curator and Director of the Sunnyside Business Improvement District
Penelope Eleni Gaitanis-Katsaras, Artist and ceramics teaching artist at Sunny Woodside Cornerstone of Woodside Housing
Mohini Mishra, Managing Director, Housing & NORCS, Queensview NORC
Ronald Fleming, DJ, activist, and LIC community member
Russell Roten, Executive Director, Citiview Connection Clubhouse
Shazia Jivraj, parent, local resident, and educator
Shireen Soliman, Astoria resident, parent, artist, and educator at Pratt Institute and Parsons School of Design
Sol Aramendi, Founder, Project Luz
Tsering Diki, Founder, NY Tibetan Service Center and Diki Daycare Center
The Saturday Series @ Queensbridge
Since 2014, the Museum has presented community screenings in collaboration with long-time partners, the Jacob A. Riis Settlement House and the Queensbridge Tenants Association, located in the Queensbridge NYCHA Houses. Programs have included a community screening of the documentary, Nas: Time Is Illmatic, a film chronicling the life and career of rapper and former NYCHA resident Nasir Jones. In its 2018 iteration, The Saturday Series @ Queensbridge features a film club of elders and youth who select and present six films, followed by community discussion.
Community Partnerships
Since 2014, the Museum has co-developed and presented over 100 programs for individuals and families from local immigrant communities and area residents. In 2018, the Museum initiated a community partnership program to work closely with several partners over the course of a year to co-develop programming and new museum experiences that resonate with the diverse communities of Queens.

2021 Community Partners
Afrikan Poetry Theatre
Emerald Isle Immigration Center
Jacob Riis Settlement House
Museum Hue
African Peach Arts Coalition
City Access New York
The Blue Bus Project
NEW YORK FILM & TELEVISION for DIVERSITY & INCLUSION (NYFTDI)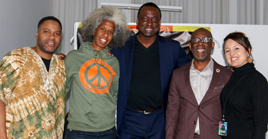 The Central Park 5 screening and discussion presented at MoMI by The Afrikan Poetry Theatre: APT Executive Director Saiku Branch, community activist Erica Ford, author Yusef Salaam (one of the Five), Councilmember Daneek Miller, and MoMI Deputy Director of Education & Community Engagement Sara Guerrero