Museum of the Moving Image provides curriculum-based educational experiences to approximately 70,000 students each year, as well as an array of dynamic, engaging tours, talks, workshops, and screenings for children, teens, families, adults, and seniors. MoMI Education
We are currently offering virtual tours and workshops, and a limited number of onsite tours for groups of 60 or less, on Fridays between 11am-7pm, and Saturdays between 12-5pm.
.

Virtual workshops range from film appreciation and world-building through science fiction to hands-on media-making and puppetry for the screen. Online educational programs are led by museum educators, media artists, filmmakers, and game designers, and each is specifically tailored to the interests of your group. Great for schools, home-school groups, seniors, college classes, and anyone interested in the cinematic arts. For more information please visit the page dedicated to your age group: grades 1-3, grades 4-5, grades 6-8, grades 9-12, colleges & universities, international student groups, seniors and adults. We also offer tours for families, corporate outings, and out-of-school youth programs. To book your virtual tour or workshop, click here.

Please note all tours and workshops are now available in Spanish and English.

Todos las visitas guiadas y los talleres se ofrecen en Español. Para más información, escríbanos a [email protected]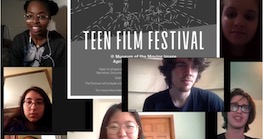 Learn more about the variety of programs for young people happening virtually.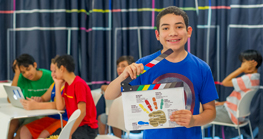 Access tutorials, exemplary student films, curriculum guides and more!